Welcome to the Bangladesh Biosafety Portal
Modern biotechnology offers powerful tools for improving agricultural productivity, environmental sustainability, and nutritional quality of foods. New crop varieties developed using biotechnology are cultivated by millions of large and small farmers in both industrial and developing countries.
This website serves as a resource to strengthen compliance with the regulatory framework and also to effectively facilitate research and development of agricultural biotechnology activities in Bangladesh through the regulatory process for the benefit of farmers and societies.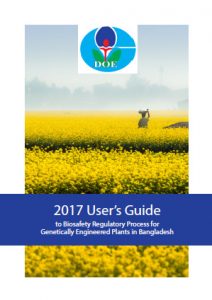 User's Guide to Biosafety Regulatory Process for GE Plants in Bangladesh is an informational resource for applicants and other stakeholders interested in understanding the regulatory processes associated with biosafety regulation in Bangladesh. It addresses applications for confined field trials, renewal applications for confined field trials, applications for environmental release for cultivation, importations for use in food, feed and processing, or importations for release into the environment.
Biosafety Regulation and Processes in Bangladesh: A Guide for Researchers in Agricultural Biotechnology is part of SABP's capacity development interventions and aims to inform researchers about the prevailing regulatory administrative system of Bangladesh. It also outlines the regulatory processes functioning at different stages of research and development of GE crops.
Explore this site for biosafety information, regulatory guidelines and general biosafety resources. Make sure to visit frequently to see the latest material posted on this portal.
Bangladesh Regulatory Processes
Bangladesh Regulatory Committees
To view a complementary site for India managed by the Indian Council of Agricultural Research (ICAR), please visit:
We are updating our website
Thank you for your patience!